Endodontics and Periodontics Office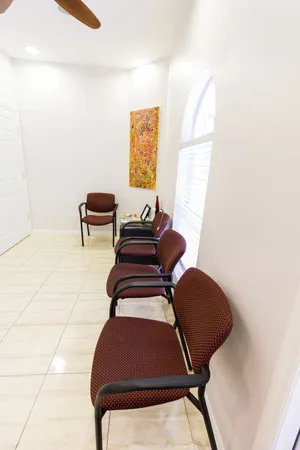 This page provides you with practical information about our practice. It includes descriptions of our office location, including a map and directions, hours, appointment scheduling, insurance acceptance and billing policies.
Tampa, FL Periodontist
Endodontics & Periodontics Associates, PA
4244 W Linebaugh Ave.
Tampa , FL 33624
(813) 960-9080

Call For Pricing Options
Office Hours

| | |
| --- | --- |
| Monday: | 08:00 AM - 05:00 PM |
| Tuesday: | 08:00 AM - 05:00 PM |
| Wednesday: | 08:00 AM - 05:00 PM |
| Thursday: | 08:00 AM - 05:00 PM |
| Friday: | 08:00 AM - 01:00 PM |
| Saturday: | Closed |
| Sunday: | Closed |
Appointments
We know you have many choices when choosing a Periodontics/ Endodontics in Tampa, FL so we have made requesting an appointment a simple process via our Web site. If, for any reason you cannot keep a scheduled appointment, or will be delayed, please call us as soon as possible.

Payment Options
We accept checks, cash or credit cards. We also offer a flexible payment plan. Please see our Financial Coordinator for details.
Insurance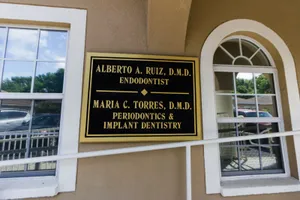 Endodontics
Alberto A. Ruiz, D.M.D.
Ameritas PPO
AFSCME Care plan
Allied Benefits System
Always Care
AS Benefits Services, Inc
AND Dental Network
Assurant PPO
Automated Benefit Services
Benefits Administrative Services
Benesys Inc
Best Life & Health Ins. Co.
Blue Cross/Blue Shield of AL
Blue Cross/Blue Shield of TX
Brokers National Life NGS
Cigna Radius PPO/HMO
Coalition America Inc.
Companion Life
ComBenefits (except SOFMC
Coresource of OH
Coventry Dental
Dearborn National Insurance
DeCare Dental/Securian
Dental Network of America
Delta Dental (All)
Dental Wellness Partners
Group Administrators
Guardian PPO
Healthscope
Horizon (BCBS of NJ)
Humana PPO
Kansas City Life
Dentermax
Excellus
First Continental Life
Gilsbar Ins. Services
Group Dental Service of MD
Kemper Insurance
Lincoln Financial
Medical Mutual of OH
Meritain Health
Meriben
Met Life PDP Plus
Mutual of Omaha
NGS CoreSource
Nova Net (formerly Grouplink
Pam America
Plan Administrators Inc.
Prefer One
Premera Blue Cross
Premier Dental Group
Prudential PPO
Quality Benefits
Security Life
Self Insured
Sunlife Financial
United Health Care PPO
Welldyne FMC
Wells Fargo TPA
This list is subject to change. Call 813-960-9080.
Periodontics
Maria C Torres, D.M.D.
Aetna PPO
Ameritas PPO
AFSCME Care plan
Allied Benefits System
Always Care
AS Benefits Services, Inc
AND Dental Network
Assurant PPO
Automated Benefit Services
Benefits Administrative Services
Blue Cross/Blue Shield of AL
Blue Cross/Blue Shield of TX
Brokers National Life NGS
Cigna Radius PPO
Coalition America Inc.
Companion Life
Comp Benefits (except SOFMC
Coresource of OH
Coventry Dental
Dearborn National Insurance
DeCare Dental/Securian
Dental Alliance Plan
Dental Network of America
Delta Dental (All
DHS (Dental Health Alliance
Delta Care
Dental Wellness Partners
Dentermax
Excellus
First Continental Life
Gilsbar Ins. Services
Group Dental Service of MD
Group Administrators
Guardian PPO
Healthscope
Horizon (BCBS of NJ
Humana Dental
Kansas City Life
Kemper Insurance
Lincoln Financial
Meritain Health
Meriben
Met Life PDP Plus/Fed.
Mutual of Omaha
NGS CoreSource
Nova Net (formerly Grouplink
Pam America
Prefered One
Premera Blue Cross
Premier Dental Group
Prudential PPO
Quality Benefits
Self Insured
Sunlife Financial
United Health Care PPO
Welldyne
Wells Fargo TPA