Endodontics


What Is Endodontic Treatment?
Endodontic treatment, commonly called "root canal treatment," is a common dental procedure that removes damaged tissue from inside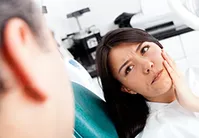 the root canals of a tooth, thereby significantly lengthening the life of the tooth. Endodontic treatment significantly restores once damaged teeth and is a recognized and superior alternative to tooth extraction as a means of treating damaged interior structures such as pulp.

What Is Endodontics?
Endodontics is a specialized form of dentistry that treats diseases or injuries that affect the root tip or nerve of the tooth and the structures called the pulp chamber, pulp, and root canal of the tooth. Root canal therapy is the most common endodontic procedure. Endodontics is one of the nine specialties recognized by the American Dental Association®; it was recognized as a dental specialty in 1963.


For more information on Endodontics in the Tampa, FL area call Endodontics & Periodontics Associates, PA at (813) 960-9080 today!