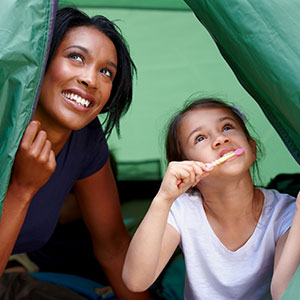 COVID-19 containment restrictions could put a kink in many of our vacation plans this summer. With leisure air travel discouraged and popular attractions like Disney closed, this may be the year for a "staycation." But however your summer plans turn out, be sure you keep up with the essentials—like taking care of your teeth and gums.
Vacations, whether a road trip or a camping getaway in your own backyard, are times to recharge the "mental batteries" by temporarily leaving everyday life behind. But not everything—you still need to take care of life's necessities, including daily dental care. Not to sound like a schoolmarm, but there is no vacation from brushing and flossing.
Actually, it's not that onerous: Just five short minutes a day is all you need to effectively perform these two essential hygiene tasks before you head out for your vacation activities (or non-activities, as the case may be). During those five minutes, though, you'll be removing built-up dental plaque, a bacterial film that's the top cause for tooth decay and gum disease.
You should also keep an eye on your vacation diet. For many people, seasonal getaways often come with an increase in sweet treats like pastries, ice cream or, the perennial campfire favorite, s'mores. But increased sugar may also raise your risk for dental disease. So, limit those sweet treats, consider alternative snacks without sugar, and brush after eating to keep tooth decay or gum disease from getting a foothold.
An equally important measure for maintaining healthy teeth and gums is a regular dental visit at least twice a year. During these visits we'll clean your teeth of any missed plaque or tartar (hardened plaque) and check for any signs of dental disease. Our goal is to keep you in the best oral health for the long haul.
Everyone needs a break from the routine now and then, even if it's a creative alternative to the traditional summer trip. Just be sure you have your dental care covered before your vacation.
If you would like more information about daily and regular dental care, please contact us or schedule a consultation. To learn more, read the Dear Doctor magazine articles "Daily Oral Hygiene" and "The Bitter Truth About Sugar."