My Blog
Posts for: March, 2019
By Endodontics & Periodontics Associates, PA
March 19, 2019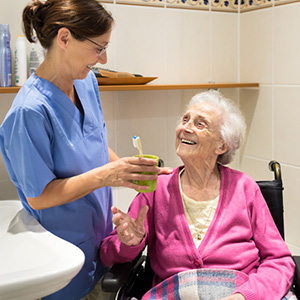 If you're the principal caregiver for an older person, you may have already faced age-related health challenges with them. Good preventive care, however, can ease the impact of health problems. This is especially true for their teeth and gums: with your support you're loved one can have fewer dental problems and enjoy better health overall.
Here are a number of things you should focus on to protect an older person's dental health.
Hygiene difficulties. With increased risk of arthritis and similar joint problems, older people may find brushing and flossing more difficult. You can help by modifying their toothbrush handles with a tennis ball or bicycle grip for an easier hold, or switch them to an electric toothbrush. A water flosser, a device that uses a pressurized water spray to remove plaque, may also be easier for them to use than thread flossing.
Dry mouth. Xerostomia, chronic dry mouth, is more prevalent among older populations. Dry mouth can cause more than discomfort—with less acid-neutralizing saliva available in the mouth, the risk for dental diseases like tooth decay or periodontal (gum) disease can soar. To improve their saliva flow, talk with their doctors about alternative medications that cause less dry mouth; and encourage your loved one to drink more water and use products that help boost saliva flow.
Dentures. If your older person wears dentures, be sure these appliances are being cleaned and maintained daily to maximize their function and reduce disease-causing bacteria. You should also have their dentures fit-tested regularly—chronic jawbone loss, something dentures can't prevent, can loosen denture fit over time. Their dentures may need to be relined or eventually replaced to ensure continuing proper fit and function.
Osteoporosis. This common disease in older people weakens bone structure. It's often treated with bisphosphonates, a class of drugs that while slowing the effects of osteoporosis can cause complications after certain dental procedures. It's a good idea, then, for an older person to undergo any needed dental work before they go on osteoporosis medication.
Keep alert also for any signs of dental disease like unusual spots on the teeth or swollen or bleeding gums. Visiting the dentist for these and regular dental cleanings, checkups and oral cancer screenings could prevent many teeth and gum problems.
If you would like more information on senior dental care, please contact us or schedule an appointment for a consultation. You can also learn more about this topic by reading the Dear Doctor magazine article "Aging & Dental Health."
By Endodontics & Periodontics Associates, PA
March 09, 2019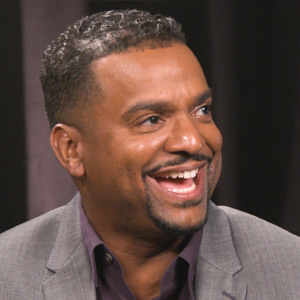 As the host of America's Funniest Home Videos on ABC TV, Alfonso Ribeiro has witnessed plenty of unintentional physical comedy…or, as he puts it in an interview with Dear Doctor–Dentistry & Oral Health magazine, "When people do stuff and you're like, 'Dude, you just hurt yourself for no reason!'" So when he had his own dental dilemma, Alfonso was determined not to let it turn onto an "epic fail."
The television personality was in his thirties when a painful tooth infection flared up. Instead of ignoring the problem, he took care of it by visiting his dentist, who recommended a root canal procedure. "It's not like you wake up and go, 'Yay, I'm going to have my root canal today!'" he joked. "But once it's done, you couldn't be happier because the pain is gone and you're just smiling because you're no longer in pain!"
Alfonso's experience echoes that of many other people. The root canal procedure is designed to save an infected tooth that otherwise would probably be lost. The infection may start when harmful bacteria from the mouth create a small hole (called a cavity) in the tooth's surface. If left untreated, the decay bacteria continue to eat away at the tooth's structure. Eventually, they can reach the soft pulp tissue, which extends through branching spaces deep inside the tooth called root canals.
Once infection gets a foothold there, it's time for root canal treatment! In this procedure, the area is first numbed; next, a small hole is made in the tooth to give access to the pulp, which contains nerves and blood vessels. The diseased tissue is then carefully removed with tiny instruments, and the canals are disinfected to prevent bacteria from spreading. Finally, the tooth is sealed up to prevent re-infection. Following treatment, a crown (cap) is usually required to restore the tooth's full function and appearance.
Root canal treatment sometimes gets a bad rap from people who are unfamiliar with it, or have come across misinformation on the internet. The truth is, a root canal doesn't cause pain: It relieves pain! The alternatives—having the tooth pulled or leaving the infection untreated—are often much worse.
Having a tooth extracted and replaced can be costly and time consuming…yet a missing tooth that isn't replaced can cause problems for your oral health, nutrition and self-esteem. And an untreated infection doesn't just go away on its own—it continues to smolder in your body, potentially causing serious problems. So if you need a root canal, don't delay!
If you would like additional information on root canal treatment, please contact us or schedule a consultation. You can learn more by reading the Dear Doctor magazine articles "A Step-By-Step Guide to Root Canal Treatment" and "Root Canal Treatment: What You Need to Know."